Love Your Data Week, Feb 8 – 12!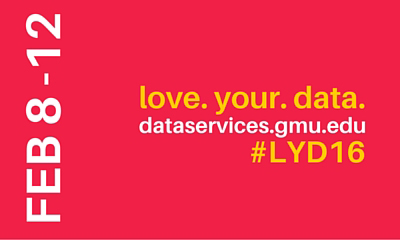 What is it?
Love Your Data (LYD) week — LYD16 — is a nation-wide social media event, coordinated by research data specialists, mostly working in academic and research libraries, designed to raise awareness about research data management, sharing, and preservation along with the support and resources available at your university. Research data are the foundation of the scholarly record and crucial for advancing our knowledge of the world around us. If you care about research data, please join us as we highlight resources and support available at George Mason University.
Each day will have a theme driving the event. We will share daily tips and tricks for managing research data, stories (both success and horror!), examples, resources, and more. All we ask in return is that you share your own experiences and results from the daily activities to keep the conversation lively.
Loving your data means investing in it, taking care of it for the future. Over the five day event, we will guide you through five activities to help get your data organized, secure, and ready for write-up, sharing and reuse.
Where is it?
The event will take place mainly online—#LYD16.
Data Services will be hosting four in-person brown bag workshops to explore each day's theme. LYD Workshops.
Monday — Keep Your Data Safe
Tuesday — Organizing Your Data
Wednesday — Help Your Future Self. Write It Down! Document Your Data
Thursday — Share Your Data (no workshop today)
Friday — Transforming, Extending and Reusing Data
Each day's activity will be posted to Data Services' site, so check back each day to learn about each topic!
For more information, write to Wendy Mann at wmann@gmu.edu
Posted in Events & Workshops
Tags: LoveYourData, lyd16